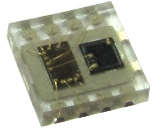 The start-up, called Silicon Clocks, is developing microelectromechanical system (MEMS) technology for system clocks and timing circuits.
It has a process for the fabrication of MEMS resonators and other sensor structures directly on top of standard CMOS wafers.
"The MEMS technology is designed to be compatible with standard CMOS mixed-signal ICs, enabling a new category of timing products that reduce system cost and optimise performance in a tiny footprint," said Mark Downing, v-p of business development and corporate strategy for Silicon Laboratories.
Clock sources are needed by processor-based circuits and typically these are silicon oscillators, quartz crystals or ceramic resonators.
Complex multi-processor systems can have as many as 12 clocks on one PCB.
Traditional clock sources use quartz-crystal resonators, but newer MEMS technology is joining pure-silicon resonators in a number of new clock designs.
Silicon Labs is an established supplier of pure-silicon resonators, and the MEMS acquisition will fit well with this business
The company is likely to use the acquisition as part of its plans to build a broader-based MEMS business, which would develop ICs for a number of different applications. 
"We believe this is a strategic technology platform uniquely capable of integrating several different MEMS with their associated CMOS circuitry on the same monolithic die," said Downing.
Silicon Clocks holds 20 MEMS-related patents.
See also: Making oscillator selection crystal clear