Difference amplifier has 90dB CMRR at voltages to +/-600V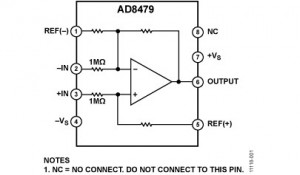 Analog Devices is offering a precision difference amplifier with a common-mode rejection ratio (CMRR) that exceeds 90dB at voltages up to ±600V.
Designed for applications such as motor control, process control and power supplies, the AD8479 enables accurate measurements of currents in the presence of voltage fluctuations as large as ±600V "without additional complex signal conditioning components", said the supplier.
The AD8479 guarantees to reject ±200V with ±5V power supplies.
With higher than 90dB CMRR, 130kHz bandwidth, 2MΩ differential input impedance, within 0.02% gain error and 5ppm/°C gain drift, the chip is designed to offer precision over a wide range of common-mode voltages and frequencies. It operates over an extended temperature range of -40°C to +125°C.

Tags:
Analog Devices
,
bandwidth.
Related Tech News
Share your knowledge - Leave a comment