Toshiba came out with an ARM Cortex-M3 based microcontroller which had a number of design features to reduce component count in motor control applications.
Its 5V operation saves on a 3V regulator and the TMPM375FSDMG MCU has a vector engine on-chip supported by high-speed timers to provide DSP functionality in field-oriented motor control. There is also a built-in amplifier for single-shunt current detection.
Avago surprised us by integrating a fly-back controller to its gate-drive opto-coupler to power the secondary-side gate drive in automotive power train designs.
The ACPL-32JT is capable of 2.5A gate drive with a propagation delay of 250ns (max). Input voltage range is 8-18V, and the fly-back converter is regulated to 20V.
Rohm Semiconductor has developed a new design of high voltage transistor which it claims will reduce power consumption in power supplies and power factor correction (PFC) circuits.
This Hybrid MOS combines the device structures of super-junction mosfets and IGBTs. As a result it has the high-speed switching, low current characteristics of mosfets with the high voltage resistance properties of IGBTs.
Vicor has raised power density in its isolated, zero voltage-switched (ZVS) dc-dc converters to 334W/cubic inch, in its Picor-branded PI31xx series.
Aimed at 24V and 28V wide temperature applications, the surface-mount converters are 22×16.5×6.7mm and offer 2,250V input to output isolation. Output voltage trimming is included, as is programmable soft-start and remote on/off.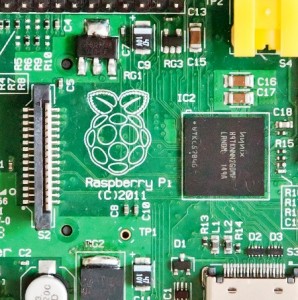 In a year of Raspberry Pi offerings two add-ons interested Electronics Weekly. The Gertduino expansion board from element14 is an Arduino-Uno like board that was plugs directly onto the Raspberry Pi. It features dual Atmel Atmega MCUs, -328 and -48, both of which can be programmed from the Raspberry Pi using the Arduino GUI or the GCC Atmel compiler.
The Raspberry Pi Foundation has designed a infrared camera module and RS Components is selling it for £16.80. Dubbed the Pi NoIR, the infrared camera module is a variant of the existing visible light Raspberry Pi camera with the same 5 megapixel image sensor.

Texas Instruments took on Raspberry Pi with the $45 BeagleBone Black computer based on a 1GHz ARM Cortex-A8 processor with more performance than Raspberry Pi's ARM11 based processor.
It includes 2Gbyte of on-board storage pre-loaded with Linux. It has USB, Ethernet and HDMI interfaces, as well as 65 digital I/Os and seven analogue inputs.
National Instruments introduced the PXIe-5645R vector signal transceiver with a differential or single-ended I/Q interface for testing both the RF and baseband signals. It is the supplier's second RF transceiver with a software-designed architecture that can be modified with LabVIEW.
It moves the vector signal transceiver into baseband and the I/Q domain, and can be used for LTE and LTE-Advanced system development.