Raspberry Pi gets its own navigation wheel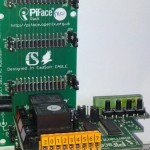 Farnell element14 is offering an accessory for the Raspberry Pi that allows users to control the computer and see information without the need for a separate screen or keyboard.
Priced at £21, the PiFace Control and Display module can be connected to the Raspberry Pi and uses its own on-board buttons and a navigation wheel to control applications and functions, with information shown on a built-in LCD display.
By separating the Raspberry Pi from the traditional monitor, keyboard and mouse combination, it allows the credit card-sized computer to be used in different locations and even controlled via an infrared remote control.
PiFace Control and Display comes with all the necessary software and sample code. Custom designed cases for Control and Display are also available from Farnell element14.

Related Tech News
Share your knowledge - Leave a comment