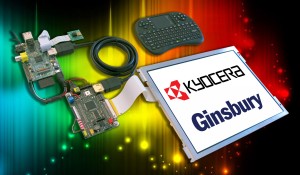 Dubbed VIP kit, it features a single channel 24-bit HDMI to LVDS converter with a 15MHz to 85MHz pixel clock enabling support for VGA (640 x 480 pixel) to Full HD (1920 x 1080 pixel) resolution displays.
Display timing specifications are configured such as Hsync, Vsync and Clock polarity. An integrated backlight control unit supports up to a maximum of 600mA. A 12V, 1.5A power supply is included together with all associated cables and connectors.
According to Ken Berry, product marketing manager, Ginsbury, Raspberry Pi can provide a platform to host a cost effective LCD evaluation tool.
"Graphics and images can be simply and quickly altered allowing display performance such as colour saturation, contrast and viewing angles to be easily  assessed. This can significantly aid the display appraisal process during the design-in phase," said Berry.
Typical applications include industrial automation, medical technology as well as in-vehicle systems.