USB connectors in XLR shells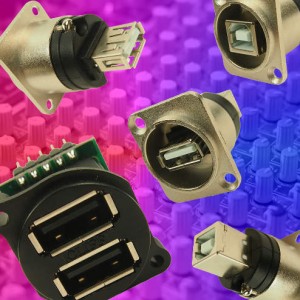 Cliff Electronics has extended its range of Digital XLR connectors, adding two USB gender-changing feed-through sockets – USB A-to-B or B-to-A.
The XLR connector style body shell was selected by Cliff for digital connections as it is widely used in the audio and broadcast industries, is an industry-standard panel cut-out (23.6mm diameter), and offers high panel mounting density.
"USB data connection to audio, broadcast, AV [audio-visual], lighting controllers, instrumentation and industrial equipment is becoming more common as digital signal and control options increase and more information needs to be transferred between portable equipment, smart phones, tablets and other data storage devices which can also be powered or charged while connected," said the Surrey firm.
A recent introduction to the range has two isolated USB sockets in one XLR shell, and more are planned – including more USBs and Ethernet. Some will be in XLR, and others in different industry-standard shells.

Related Tech News
Share your knowledge - Leave a comment