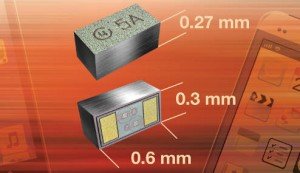 Maximum leakage is <0.1μA at 3.3V, and typical capacitance is <0.29pF for 2.5A 45W VBUS03B1-SD0 and <14pF for the 6A 78W VCUT03E1-SD0 – ratings are for IEC 61000-4-5 8/20μs single shot pulses.
"They offer ultra-low capacitance and leakage current for the protection of high-speed data lines and antennas against transient voltage signals," said the firm. "Due to the short leads and small CLP0603 package, the diodes' line inductance is very low, allowing fast transients to be clamped."
Breakdown is 8.5V typical at 1mA and a maximum clamping at 2.5A is 18V.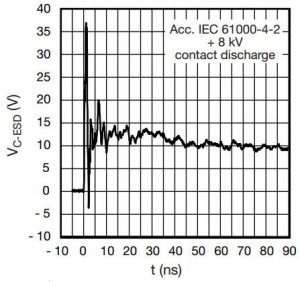 VBUS03B1-SD0 and VCUT03E1-SD0 provide transient protection for one data line as per IEC 61000 4 2 at ±16kV and ±30kV (air and contact discharge) respectively.
+260°C reflow as per JEDEC STD-020 for 10s is supported.
Applications are expected on HDMI, USB 3.1, and Thunderbolt ports in phones, cameras, MP3 players, and gaming machines.