Rohm's tiny transistor available at Mouser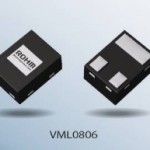 Mouser Electronics has availability of what is claimed to be the smallest transistor package on the market from Rohm Semiconductor.
The VML0806 case type measures just 0.8mm × 0.6mm with a height of only 0.36mm.
According to Rohm, problems related to internal element miniaturisation, bonding stability, package process accuracy, and surface mount technology had limited the smallest conventional transistors to the 1006 size (1.0mm×0.6mm, t=0.37mm).
Its design uses a smaller element and high-precision package process technology, resulting in an unprecedentedly compact form factor.

Tags:
element
,
Mouser Electronics
,
process technology
Related Tech News
Share your knowledge - Leave a comment