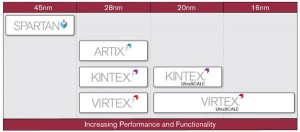 "All Xilinx 28nm 3D IC families are now in volume production. These 28nm devices were developed on TSMC's chip-on-wafer-on-substrate (CoWoS) 3D IC process," said Xilinx.
Xilinx is sticking with TSMC for its next generations.
We "are now positioned to leverage TSMC's 20SoC and 16nm FinFET process with our UltraScale architecture," said Victor Peng, general manager at Xilinx.
Virtex-7 HT FPGAs feature up to 16 28Gbit/s and 72 13.1Gbit/s transceivers. The firm is aiming them at high-bandwidth, high-speed Nx100G and 400G line card applications in optical transport networks.
Two other homogeneous devices in the 3D IC family have been in volume production since early 2013: Virtex-7 2000T "provides the equivalent of 20 million ASIC gates," for asic replacement and prototyping, said Xilinx and Virtex-7 X1140T has 96 13.1Gbit/s 10GBASE-KR compliant transceivers for wired communication applications.