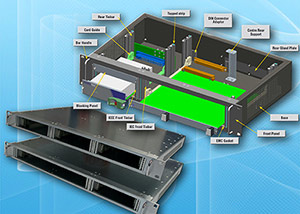 Available in 1U and 2U high versions and with depths of 270mm or 370mm, the Eurocard rackcases provide either 6HP or 12HP height, enabling multiple cards to be housed.
The units can be set up to house three x 3U PCBs, one 3U and one 6U or a single 9U card. In the multiple configuration units, different depths can be installed in each section.
In all versions, the robust KM6-HD front tiebars can be either IEEE1101.10 for compatibility with the injector/ejector handles required by bus structures such as VME64x and CompactPCI, or IEC297-compatible for general-purpose applications.
The front and rear tiebars are secured to the top and base, which are pre-punched with holes in the appropriate positions for different sized Eurocards.
The heavy-duty clip-in card guides are available in 160mm and 220mm depths; they can be fitted with PCB grounding clips and ESD front panel clips if required, and screwed down if increased strength and resistance to shock and vibration is needed. A 160mm card guide with a 0.5HP offset for CompactPCI PSUs is available.