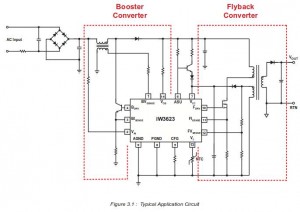 Called iW3623, it implements a two-stage topology to combine high power factor (>0.95, 100-277Vac) with low output current ripple (<5%).
The chip comes out of what was iWatt, acquired in July 2013 and now called Dialog's Power Conversion Business Group.
"The combination of integrated features makes the iW3623 an ideal solution for a wide range of non-dimmable, commercial solid state lighting downlight, PAR, T8, and flat panel ceiling lamp applications," claimed Dialog.
Built-in over-temperature de-rating using a separate NTC thermistor allows the finished products to be designed with a predictable operating life.
"When thermal conditions in the bulb reach the set temperature, the iW3623 automatically and incrementally reduces current drive to the LEDs," said Dialog. "This lowers the power dissipation, results in cooler operation, and ensures the temperature rating of the electrolytic capacitors in the system is not exceeded. Users will likely not experience any visible changes in light output. In extreme temperature situations, the iW3623 will shut down current drive to the LEDs to prevent safety and fire risks."
Primary-side control eliminates the need for a secondary-side regulator or opto-coupler feedback.
The main switch can be a mosfet or bipolar transistor (BJT).
"While using BJT switches lowers the total solution cost, achieving high conversion efficiency can be a challenge. The iW3623 solves this by using quasi-resonant mode switching for both the boost and flyback stages and dynamic base current to optimise conversion efficiency and minimise EMI," said the firm.
Other safety features include LED open/short circuit, single fault, over-current, current sense resistor short-circuit, input over-voltage, brown-out and AC line over-voltage/frequency protections.
During output over-voltage conditions, the iW3623 goes into an extended discharge mode, while maintaining a quick recovery, allowing support for hot-plug LED modules without causing dangerously high output voltages.
It comes in a 14-lead SOIC.