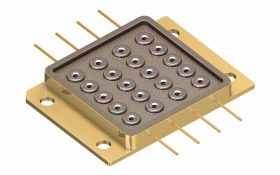 "This means that professional laser projectors can achieve a brightness level of more than 2000 lm with only one component," said the firm, adding: "Osram developers are the first to adapt the 'butterfly' package for projection applications."
Called PLPM4 450, the module has four copper bars with up to five blue laser chips connected in series and operated at 2.3A each. 50W of light is typically delivered from 165W (50°C) in with wavelengths of 440 to 460nm – To this possible, single-chip output has been doubled from 1.6 to 3.2W and thermal resistance improved.
According to Osram, some laser projectors use blue laser diodes in combination with a converter wheel produce red, green. "If several modules are installed, levels far in excess of 5000 lm are then possible, for example for large conference rooms.
Lifetime to 50% is up to 20,000hr, depending on ambient conditions.
Volume production will start at the end of 2014, with samples available in the summer. Osram Specialty Lighting will integrate the module with phosphors into 'phaser' (phosphor and laser) modules for use in existing projector architectures.