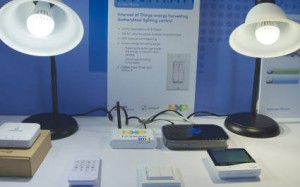 "Using NFC technology, the EnOcean switch can be added to a home network by tapping an NFC-equipped mobile phone on the gateway to collect network parameters, and then using the phone to pass them on to the switch," said NXP.
Designed by NXP, the gateway includes interfaces for: NFC, ZigBee (Light Link and Home Automation profiles), JenNet-IP, and Ethernet to connect to an existing home Wi-Fi router.
The Consumer Electronics Show (CES) Latest News Roundup »
The system on show at CES in Las Vegas. "Completing the demo are wireless colour LEDs and tuneable white dimmable LED lamps, which can also be added to the network using NFC and then controlled via an Android phone," said NXP.
EnOcean's wireless light switches are also battery-less. Energy for transmission comes from a generator built into the switch rocker.
"We were able to develop a battery-less wireless switch module prototype for the first time operating a 2.4GHz radio and NFC powered by energy harvesting.," said EnOcean chief operating officer Matthias Poppel.
In this case the switch uses an NXP JN5161 wireless microcontroller and implements the ZigBee Green Power profile. This series of microcontrollers was acquired by NXP when it bought Sheffield-based Jennic.
The reference design for the 802.15.4 to Ethernet bridge, which is based on the JN5168 wireless microcontroller, is available immediately.
The RGB and tunable white LEDs "use NXP's patented sensorless sensing technology", said NXP, first demonstrated at CES 2013.
There is a video of NXP and EnOcean's NFC in action.