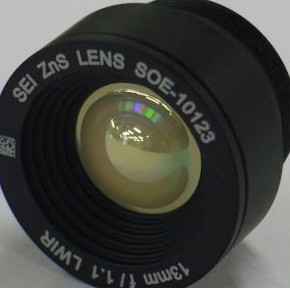 "To supply more affordable lenses, developments have been made with a sintered zinc sulphide [ZnS] lens," said Hertfordshire-based Premier Electronics. "This is not manufactured by the traditional method of vapour deposition, which is expensive and slow, but powder moulding and sintering in a heated press."
The resulting lenses have F numbers around 1.0-1.1, transmission from 8 to 12μm, average optical surface roughness less than 0.020μm, and profile errors within 3μm, claims Premier. Operation is from -40 to +80°C.
"A ZnS lens of this type has remarkable modulation transfer function [MTF] performance to make images clearer in detail. These are threaded lens with the same mount which allows swapping out of one lens for another.
8.6, 13, 18.8, and 35mm sizes are available, for both 320 and 640 pixel imagers, with more to follow.
Germanium is used across 2-12µm.