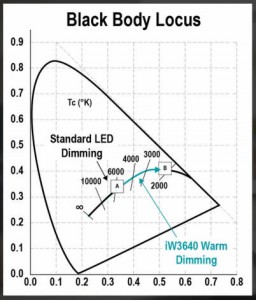 iW3640 is a 25W 2-channel mains-powered LED driver, intended for 75-150W-equivalent A19 and PAR bulbs, as well as 20-45W commercial dimmable external lighting ballasts.
It works by producing a PWM signal that gradually increases its duty-cycle as output current is reduced. A set of white LEDs is fed directly from the converter output (see diagram) while a set of amber LEDs is fed from the same output, but modulated by the PWM signal via a mosfet.
In this way, the light output becomes more amber as the light is dimmed.
Various dim/CCT characteristics are possible by altering the number of LEDs in each string, and the arrangement of strings (see diagram below).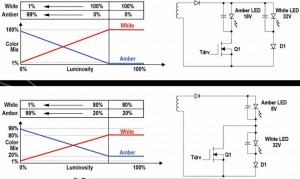 "Built-in digital dimming detects the dimmer type and phase, automatically adjusting LED colour mixing in step with light intensity to provide smooth dimming that closely matches the warmth and ambiance of a traditional dimmable incandescent bulb," said Dialog. "The result is a much more intimate LED lighting experience in residential and commercial settings, where lighting plays an important role in setting the mood."
Dimmers vary considerably in quality, and dimmer compatibility is a big issue with dimmable LED drivers.
"Dialog's digital dimming technology allows the iW3640 to work with virtually all phase-cut wall dimmers, including leading-edge dimmers (R-type or R-L type) and trailing-edge dimmers (R-C type), as well as digital dimmers, with flicker-free dimming down to 1% of initial brightness," claimed the firm. "As the driver detects increased dimming angles, the duty cycle of the secondary LED string is increased. Cycle-by-cycle waveform analysis facilitates fast dimmer setting response."
To counter problems when bulbs are using in fittings with insufficient air flow, there is over-temperature protection which gradually steps down output current above a chose temprerature – configured via an NTC thermistor.
This keeps control of internal temperature and "allows the electrolytic capacitors in the LED circuit to operate within the maximum lifetime of the SSL bulb, resulting in a predictable bulb operating life", said Dialog.
There is also protection against LED open-circuit, LED short-circuit, over-current, current sense resistor short-circuit, and input over-voltage.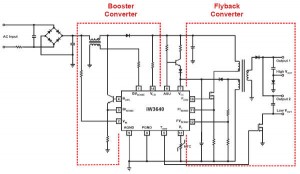 The power converter is two-stage (see right) to address power quality and efficiency regulations, including the European Union IEC61000-3-2, are addressed with >0.95 power factor, <15% total harmonic distortion, <20% ripple voltage.
"It is compatible with the Zhaga hot-plug LED module for LED light interchangeability and the dimming curves are compliant with the NEMA (National Electric Manufacturers Association) SSL 6(2) dimming standard.
It comes in a standard 14 lead SOIC package.
There is no public data sheet, but there is a product brief and an iW3640 introductory video.