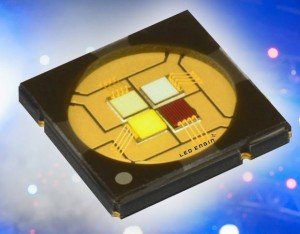 The firm is well known for extreme intensity LEDs.
In this case, the LZ4-04MDPB's individually addressable green, blue and white die can be driven at up to 3A, and the red die 2.5A – all from within a 2.15×2.15mm light emitting surface, the same as its predecessor.
"The emitter's output ranges from tungsten-effect white lighting to a full spectrum of brilliant colours in fixtures such as moving heads with zoom optics, directional effect lighting and wall washes," says the firm.
Its 7x7mm footprint extracts up to 40W through its four-channel, multilayer ceramic substrate with 0.9°C/W thermal resistance.
The new emitter has a lower profile substrate and thinner flat glass lens than the previous version. Secondary optics can therefore be positioned closer to the surface to improve coupling efficiency.
Led Engin is imagining beam widths down to 4°. "Fixture designers can adopt the same secondary lenses and optical design used with any existing flat top RGBW emitters, providing the lenses are rated for the increased temperatures that result from higher power operation," says LED Engin.
LZ4-04MDPB emitters are available now.