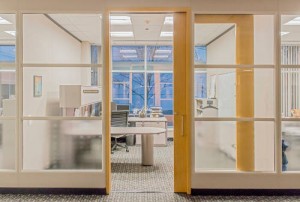 Called SmartCast, it consists of enabled-luminaires, light switches, light sensors, movement sensors, and an adapter box to connect to existing 0-10V dimmable luminaires.
"Commercial lighting customers have resisted installing traditional lighting controls because of excess cost and complexity, and the majority of those who have installed controls stop using them as intended after the first year because they're difficult to maintain," claimed Cree v-p of lighting Norbert Hiller. "SmartCast technology eliminates these barriers to adoption and delivers cost savings, allowing customers to realise the promise of lighting controls."
Take the Electronics Weekly Salary Survey 2014 »
The cost savings claims are against uncontrolled fluorescent luminaires.
Each enabled LED luminaire includes a light sensor, movement detector, and encrypted wireless link.
Once installed, initiated by a hand-held remote control, the system auto-calibrates.
As well as communicating by radio links during this procedure, individual luminaires flashing their own LEDs while sensing ambient light to determine which luminaires are lighting the same space and which are unrelated – in different rooms, for example.
"It eliminates additional design time, wires and set up time often associated with controls systems to provide a simple control system," said the firm. "Luminaires enabled with the technology create their own secure network, learn about their environment and form groups, all with the push of a single button."
While emphasising power savings through the use of LEDs, occupancy sensing, and light sensing, Cree has not said what static power consumption the system adds.
A decade ago, Cree was a niche semiconductor company. From initially only supplying LED die, it first expanded to sell packaged lighting-class LEDs, then to manufacture complete luminaires – adding LED replacement light bulbs recently, and now is is making lighting controls.
For more information, there is a SmartCast video, and a different video on YouTube
The photo above shows the system installed at Lord Corporation