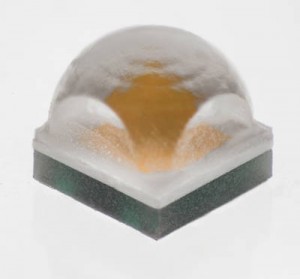 Called XB-H LED, it scores highest in lm/area amongst the firm's LEDs, allowing smaller diameter optics to deliver a certain illumination pattern at a given efficiency. Cree dubs lm/area 'optical control factor'.
"XB-H LED brings the lighting-class performance of the XP-G2 LED into a package that is 50% smaller," said Cree. "Delivering more than 500 lm at 1.5A, 25ºC, it can enable luminaires that use the same size footprint XB-D LED to triple their light output at the same efficacy. It delivers up to 175 lm/W at 1W, 25°C."
At 25°C, the LED will be emitting more light than it will be once it warms up.
Regarding package optical dimensions, "XB-H offers compatibility with most optics designed for the Cree XP family of LEDs," said Cree.
The LED is from 2,700K to 8,300K and CRI options of 70, 80, 85 and 90.
Binned at 700mA (5W) 85°C, the XB-H LED delivers up to 499 lm.
Packaging is ceramic, and similar to earlier Cree products. "Lighting manufacturers seeking Energy Star qualification can take advantage of the XB-H LED's successor status to the XP-G2 LED, meaning that Energy Star qualification can be achieved using 3,000h of LM-80 data, instead of the normal 6,000h," said the firm.
Samples are available now and production quantities are available with standard lead times.