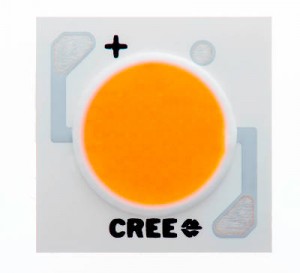 Part of the firm's CXA range, the CXA1520 "doubles the system intensity of spot lights compared to previous arrays", said Cree. It "enables lighting manufacturers to create a new generation of products that delivers the same intensity and light quality as 39W ceramic metal halide".
The firm is saying little about how what it has done to get so much more light out.
Paul Scheidt, Cree product marketing manager, told Electronics Weekly: it is "using high-performance die, a different performance class of die".
Output is "up to 3,478 lm at 33 watts, 85°C", said the firm, which is presumably for a hard-driven high-bin cool white with low CRI.
Specified typical running current is 500mA at 33V, where the brightest device in the data sheet is 2,100 lm (top-bin, 5,000K, 85°C, CRI=75typ)
Typical 500mA 85°C 3,000K values are 1,650 for 80CRI and 1,290 lm for the 93 CRI option.
Options are ANSI white and four-step binning with whites from 2,700 to 5,000K, 70-95 CRI.
The package is 16x16mm.
1520 samples are available now, and production quantities are on standard lead times
Applications are expected in directed light, from retail spots to general purpose floods.
Scheidt hinted that a larger high-brightness product is just around the corner, but would say no more.
At the same time as announcing the 1520, he said there will be extensions to its standard brightness CXA array line-up: CXA1820 will be a 12mm diameter lighting LED array that can be driven at up to 20W, 1830 is 14mm 30W, and 3070 is 23mm 70W. The first two will be available late this month, the last one sometime in October.
Cree has taken steps to simplify thermal design with its CXAs.
Because they have dozens of die inside, which operate at different temperatures depending where they are in the package, it has removed the concept of junction temperature.
Instead it specifies de-rating by forward current and 'case temperature', which is Cree's expression for the temperature of the device's thermal contact face.
For practical temperature measurement, a metallic spot is provided on top of the package which assumes the contact face temperature when thermal steady state is reached.