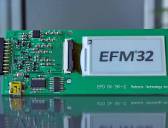 Usually found in e-books, the ultra-low-power technology approaches ink-on-paper contrast and allows months of display from small batteries.
Taiwan-based Pervasive Displays (PDI) is making the displays, teaming up with Energy Micro of Norway for a low-power ARM Cortex-M3 microcontroller from its Gecko range.
"E-displays are creating new applications that were not possible with conventional display technologies. In every case, minimal energy consumption is a key requirement," said PDI v-p sales Damon Hess. "Most applications are battery-powered and, after exhaustive research across the microcontroller market, we found Energy Micro's MCU to be the lowest power solution by a considerable margin."
The first release from the alliance is the EPD SK-2 daughter board with a 50mm display, developed by Taiwanese distributor Retronix, which is bundling it with Energy Micro's EFM32-G8XX-STK Gecko developer kit (see photo).
"Electronic paper is the lowest power display technology because the devices do not consume energy after they have been updated, however long the image is displayed," said Energy Micro. "PDI's e-paper displays are currently available in sizes from 1.44 to 10.2in. [37 to 260mm], the largest is 1280×1024 with a resolution of 160dpi."
The EFM32G890F128 microcontroller in the kit combines 180µA/MHz (3V) active power with a 20nA (3V) shut-off.
An 'EPD-On SK2' reference design uses the standard Gecko starter kit to handle waveform library functions, image transmission via a USB and UART bridge, driving the electrophoretic display's chip-on-film controller.
The complete reference design is powered by USB or a CR2032 coin cell.
"Using the Gecko microcontroller, a single lithium battery cell can power a PDI display for several years in a typical application," claimed Energy Micro v-p of sales Andrea Marchi.
Applications are foreseen in retail shelf labels, warehousing, logistics, reusable container labels, kanban cards, factory automation, and shop floor conveyers.
There is a video demonstration of e-paper driven by a Gecko microcontroller.