"The shared program will bring together partners from across the value chain to tackle challenges such as high resolution, low power consumption, large area, outdoor readability, flexibility and light weight," said Belgium research lab IMEC, which has partnered with Dutch lab Holst Centre.
Even though OLED technology is in its infancy, small rigid displays are already wowing consumers in high-end phones like Samsung's Galaxy.
Many think the technology will not have reach its full potential until it is used in flexible displays – something that is not possible with LCD – but where OLED have so far proved unreliable.
"Flexible displays represent an enormous economic and technical opportunity for flat panel manufacturers and its supply chain. As such they are seen as an attractive landing place for many new technologies. Flexible displays are therefore becoming a top priority research effort for many companies worldwide, including many of our current industrial partners," said Gerwin Gelinck. Holst Centre OLED programme manager.
The programme scope includes development of manufacturing equipment such as fine patterning printers for backplanes and tools for integrated roll-to-roll manufacturing.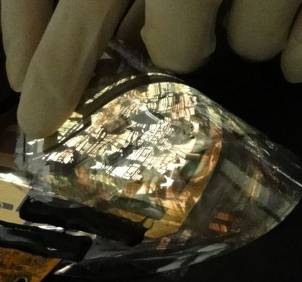 "We already have been working more and more towards integrating separate building blocks and have realised OLED displays using both organic and metal oxide TFT backplanes," said IMEC OLED research manager Paul Heremans. "Thin, plastic substrates were used, and the displays were fully encapsulated using our state-of-the-art barrier technology. Part of this was done with other research institutes in a European project called FLAME, but we could really pull this off because of intense collaboration with some of our industrial partners. We will demonstrate some of these display prototypes in 2012."