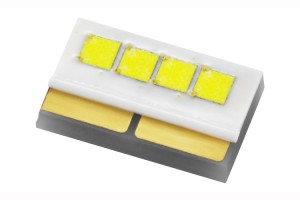 The modules use ceramic substrates featuring high heat dissipation rate up to 170W/mK.
A single chip running at 1A provides up to 1200lm. According to the supplier, the module's heat dissipating mechanism allows the chip to provide "stable performance even at 1.2A".
"The single-chip Tj design that has passed the 150°C high-temperature test for the harsh, extremely hot environment in a headlight assembly," said Everlight.
Headlight modules incorporate 2-, 4-, 5- and 6-chips.
The LED components are certified for TS16949, and the LEDs themselves are AEC_Q101 certified.