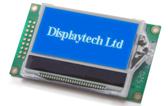 Fashion gets everywhere, even into good old alphanumeric display modules where new colours and appearance allow designers to give products a lift with very little effort.
Once, you could have any colour you wanted, so long as it was black characters on a greeny-grey background.
"More modern and aesthetic are blue-on-white or black-on-white," Paul Ward opto-product manager at component distributor Farnell, told Electronics Weekly.
Keeping up appearances
Mike Caddy, display product manager at RS Components finds something similar. His high sellers are 16 and 20 character by two line (16×2 and 20×2) film-compensated super-twisted nematic (FSTN) LCD types with white backlights.
Film-compensation serves to increase the reflectivity of the background, improving contrast and appearance when the display backlight is not being used.
"They are cheap, work well over a wide range of temperatures, and have a pale silver background which looks nicer than old-fashioned greeny STN modules," he said.
Jim Hemsley, product manager at distributor Avnet Embedded, formerly Trident is not disagreeing.
"Best technology for us in mono [alphanumeric] is customers switching to white LED backlight with blue or black LCD. This gives end-products a new feel with a minimum of redesign effort," said Hemsley. 
LED backlight choice
Backlighting was originally largely done with electroluminescent layers which offer pale green and a limited range of other colours.
The introduction of LED backlights has not only broadened the spectrum, but allowed a choice of colours in a single display.
"Film-compensated STN alphanumeric displays with RGB backlights have a neutral colour background and the RGB backlight allows the engineer to change the background, to red for example, to signal fault conditions," said RS's Caddy.
Alphabet soup
As supplier websites find international audiences, companies are stocking various language options.
"Now that distributors have global websites, displays can be offered in one of three language options: English, European – which means with accented letters – and Cyrillic for countries including Russia," said Farnell's Ward.
Traditional alphanumeric displays are just that, consisting of rows of 14-segment character displays.
However, some are actually coarsely-pixelated monochrome graphics displays with internal decoding so that electrically they are compatible with 14 -segment types.
"Once pixels are available, Chinese characters can be offered as an option," said Ward. 
And pixels mean some modules allow designers to create their own graphical symbols – kettles, egg-timers and alike.  
Another tradition was 5V operation, but increasingly there are now 3V versions with and without backlights, particularly for portable use with a Li-ion cell or two AA batteries.
OLED options

OLED – organic LED – technology offers wafer thin displays which, as they emit directly, need no backlight and have a viewing angle – basically a hemisphere – far wider than LCDs.
They are typically used in consumer products such as MP3 players and mobile phones.
But despite these advantages of OLED technologies, their scope for replacing alphanumeric display modules remains limited.
"We have got a range of yellow/green on black 2×16 and 2×20 OLED," said Ward. "The advantage is viewing angle, although you probably won't get LCD brightness or sunlight viewability. Viewing angle can be a key seller in handheld."
A matter of timing
That said, it is early days for the technology: "There is no doubt more OLED colours will come. All is getting more attractive and less utilitarian," said Ward.
Avnet's Hemsley sees timing as an issue for OLEDs.
"We're still a bit wary about OLED as product availability is very variable," he said. "Most design wins in the UK take around 6-18 months and you can find that by the time we get to production the OLED can be almost end of life."
What ever it uses to make light, the back-end of an alphanumeric display module looks pretty similar to the microcontroller-parallel "Hitachi HD44780-compatible", simple
ASCII serial at a few hundred bit/s, or a few proprietary schemes.
A new addition to display modules is I2C, a sophisticated serial interface popular inside consumer electronics which allows compatible devices of many sorts to be daisy-chained on a single bus.