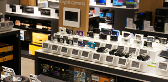 Manufacturer ZBD has supplied the epaper displays and Pierhouse has provided the retail information and pricing software platform for the signage system at the store.
  
"Our epaper system helps John Lewis to automate frequently changing price and product information in-store," said David Morgan, ZBD global sales director.
Berkshire-based ZBD started life in 2000 as a technology spin-out of UK research lab Qinetiq, launched to exploit zenithal bistable displays, hence the company name.
Qinetiq spin-out
Qinetiq not only invented ZBD LCDs but, in its former guise as a high-achieving MoD research lab, invented LCD technology in the first place, as well as radar.
Much like E Ink displays, ZBDs require no energy to hold an image, only to change it.
Unlike E Ink displays, ZBDs can be made on a standard high-volume LCD manufacturing line with little modification.
The image quality is high-contrast and easily read, like an LCD digital watch, but does not achieve the ink-in-paper look of E Ink in an eReader.
Shelf-edge labelling

ZBD has re-invented itself as an electronic shelf-edge labelling firm by combining its displays with a low-power radio receiver in units ('epops') that offer five years of maintenance-free operation from an internal battery.
Several hundred of ZBD's epaper displays have replaced traditional print ticketing to provide customer information, pricing, promotions, reviews as well as QR codes in a digital format, all driven by NetTickIT.
"The tickets allow us to trial how we can break down some of the barriers traditionally associated with shopping through different channels, they have an option to include QR codes which allow customers to access information online, compare products and check stock," said Karen Dracou, head of omni channel at John Lewis.