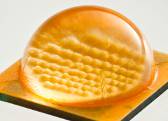 Cree has announced the MT-G2 lighting LED which is scheduled to deliver up to 2,100 lm in 3,000K warm white at 25 watts at 85°C.
"The brighter MT-G2 shares the same footprint as the original MT-G, providing a seamless upgrade," said Cree. "It is designed to be used as a single component in an LED design to better emulate the filament appearance of incumbent lighting products and simplify design and manufacturing."
Applications are expected in track lighting, accent lighting, lamp retrofit and down lighting.
The package is 8.9×8.9mm footprint, and the LED is available in colour temperatures ranging from 2,700 to 5,000K in 80 and 90 minimum CRI options.
There are multiple forward-voltage options.