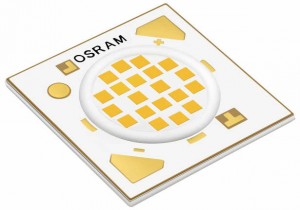 Called Soleriq P 9, it produces 2,000 lm from a 9mm diameter. "Just one is enough to replace a 35 W HID lamp for spotlighting," said the company. "The light emitting surface is around 50% smaller than the existing Soleriq S 13, but the LED delivers twice as much light with the same efficiency."
Luminous efficacy is 100 lm/W for the 3,000K variant at 85°C.
There is more to come.
"Over the next few months we will be unveiling more products in the Soleriq P family, taking the benefits of the P series into different form factors and areas of application", said Andreas Vogler, responsible for the P 9 at Osram.
The Osram partner network has holders, optics and drivers tailored to the Soleriq families, said Osram.
Technical data:
15x15mm package
9mm dia emitting surface
120° beam angle
2,000 lm at Tj=85°C and 3,000K
100 lm/W at Tj=85°C and 3,000K
80min and 90min CRI
2,700-5,000K (CRI 80)
2,700-4,000K (CRI 90)