Available during the second quarter of this year, it is aiming at them at replacement bulbs, MR/PAR and downlights.
"By utilizing flip chip technology, Samsung has made significant improvements to its LED packages and modules," said Samsung v-p of marketing Bangwon Oh.
Like Lumileds with its Lumiramic technology, Samsung is attaching a solid phosphor flake to each die rather than depositing phosphor as a slurry. The flakes are graded, and selected depending on the individual die's characteristics, which cuts final device spread.
Samsung is calling it a 'phosphor film' and said it can produce LED packages down to a chip-scale size, with MacAdam 3-step ellipse chromaticity control, and gets a constant product thickness.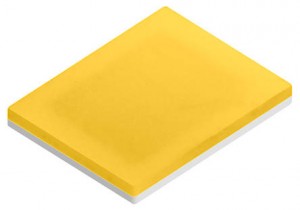 Included is a middle power LED package (LM131A, 1.22×1.22mm), a high power LED package (LH141A, 1.4×1.4mm) and an LED downlight module.
Some LED makers, said Samsung, prevent slurry spread using a plastic moulding. Without the need for such a moulding, its LEDs can be used in hotter products – higher power or used in confined spaces.
Of the flip-chip-on-module (FCOM), Sansung said it can vary the number of die and tile size depending on required output power. A 1,000 lm 100 lm/W downlight needs a 17x17mm module.
MacAdam 2-step is supported at customer request in the FCOMs. CRI is >80 and colour temeratures from 2,700 to 5,000K are available.
Borrowing TV technology
At the same show, Samsung announced a line-up of 'lens-attached LED modules' (LAMs), for use in office lighting including linear and line lighting, cove lighting and troffers.
The lenses spread light rather than concentrate it into a beam, and came from Samsung's development of thin backlight units [BLUs] for LCD TVs. "In 2012, when LEDs became popular in BLUs for LCD TVs, Samsung created LED BLU modules combining lenses with LED packages to increase overall light output"," said the firm.
They are intended to be used in lighting where the lumiaire needs to have an even appearance, and allows LEDs to be closer to the luminaire diffuser, or fewer brighter leds can be spaced further apart, without dark patches being apparent from the outside.
The diffusion plate can be as close as 35mm to the LEDs, said Samsung, compared with 80-100mm with conventional T5/T8 fluorescent tubes.