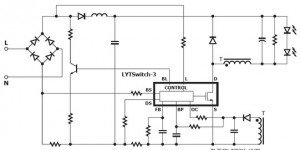 Compatibility with leading-edge and trailing-edge dimmers is claimed, plus support for a wide range of isolated and non-isolated topologies (see below).
Programmable dimming profiles are available, and deep dimming response is also programmable – to extend dimming range or shut the load down to eliminate shimmer.
Bleeder current – input current drawn at low brightness levels to keep triacs conducting – is actively regulated to minimise power loss.
"They are compatible with the widest range of dimmers and provide a choice of MOSFET breakdown voltages for optimised designs. Multiple single-sided designs can be based around one IC," said Hubertus Notohamiprodjo, product marketing director at Power Integrations.
When there is no dimmer, or the dimmer is set at full conduction angle, the internal dimmer management circuitry is turned off to improve efficiency.
"Uniquely, the driver continuously manages power factor, even in dimming mode, which minimises apparent power draw [VA] as the bulb dims," claimed the firm.
For protection in high ambient temperatures, or when the fixture has poor cooling, thermal-foldback automatically dims the LEDs to cut dissipation.
Possible topologies include: buck, boost, buck-boost, tapped-buck, tapped-buck-boost and isolated fly-back.
Power factor is <0.9 and THD is <10%. It can be used to meet efficiency standards including EN61000-3-2, CEC Title 20, CEC Title 24 and ENERGY STAR.
Output current is constant to 3% over load, line and from device to device.
It comes in a 16 pin So package with two pins deleted for voltage isolation.
Application note DER-524 describes an 8W driver buck-boost driver for European supplies using the common EE10 ferrite core.