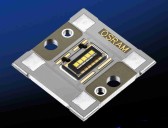 LED headlights will trickle down from premium cars this year, at least as an option.
"Now there are a few premium cars: Lexus, Prius, Cadillac, Audi A8 and R8," Steffen Pietzonka, v-p of marketing at German car parts giant Hella, told Electronics Weekly.
"In mid-2010 there will be another car with full LED headlights, not in such a premium region as the Audi A8. Then we could have a smaller car in the middle of the year in Asia, and I guess another two cars at the end of 2010, or the beginning of 2011.
The view is similar from LED makers.
"LED headlamps were first introduced in the premium segment, in vehicles such as the Audi R8, Lexus LS600H, and Cadillac Escalade," Lumileds spokesman Steve Landau told Electronics Weekly.
"Penetration has continued into higher volume premium passenger sedans, and most recently, penetration has begun in the hybrid electric vehicle segment with cars like the Mitsubishi MieV and the Toyota Prius. This trend is expected to continue into mainstream vehicles over the coming years."
See also: Photos: Philips Lumiblade OLED lighting
Solid-state front lighting has entered the car market at the premium end because the technology offers a marketing edge. Premium cars have to have headlights that are visually distinctive and flawlessly stylish.
"We have to keep in mind that the latest [LED headlight] developments were done together with set [headlight] makers and car makers," said Hella's Pietzonka. "If stylists say they want a certain curve, they go back to the LED maker and they have to make devices that are suitable."
Audi's advertising campaign for its A8 model provides clear evidence that car makers think LED headlights bestow a marketing advantage.
There are two headlamp options on the A8: LED-based, or a higher-performance discharge lamp version.
"Look at the advertising, in many photos you see details of the face of the car. Nearly every picture is of the LED headlamp version," said Pietzonka.
However good it is, the discharge, or 'xenon', version looks too conventional.
The advanced features of the xenon variant are made possible by its extraordinarily bright single-point light source.
To begin with, the xenon Hella-developed headlight includes automatic control of main beams, switching from motorway to town mode and back depending on factors including vehicle speed.
Then moment-by-moment, the top edge of the dip beam pattern is shaped to avoid dazzling other road users – a technique called adaptive cut-off.
To control the variable shutter within the headlight that shapes the cut-off, a forward facing camera and processor detect the headlights and taillights of other vehicles.
Mercedes E-Class cars were the first to be offered with these features, but the A8 xenon option takes adaptive cut-off even further, automatically shaping the beam to avoid dazzle when the car climbs or descends hills – so called topographic control.
It will not be long before premium buyers demand LED styling and cache, combined with the adaptive cut-off technology that is only now possible with xenon sources.
"Customers have to decide between cool looks or high function, and they won't accept the gap between xenon capability and LED capability," said Pietzonka. "We have to close the gap with much more development."
"I guess," he continued, "we will have front light system that automatically switches between motorway and town beams in the next two to three years. It will probably be three or four years for a full LED headlamp that is the equivalent to the xenon headlamp in the Audi A8 with camera-adaptive cut-off and topographic compensation."
Beyond this, LEDs could actually overtake xenon sources in function.
With projection optics, an array of LEDs can imaged onto the road in front of the vehicle, much in the same way as a cinema projector forms an image on its screen.
Switching LEDs on and off in such an array gives a huge choice of beam patterns.
"Array-based headlamps with 80 to 100 LED die will be a few years behind the first LED headlights with adaptive cut-off," said Pietzonka.
For LEDs to reach much further down the market, there have to be advantages beyond styling.
"To make an inroad for mainstream market adoption, LED sources will have to enable other value drivers such as better energy efficiency and lower total system cost," said Lumileds' Landau.
He earlier pointed out that hybrid vehicles, and electric vehicles, are early LED adopters.
The advantage here is electrical efficiency.
LED-make Osram has released main-dip power figures for a module called Joule, due or production early this year, that was demonstrated in Volkswagen's L1 concept car.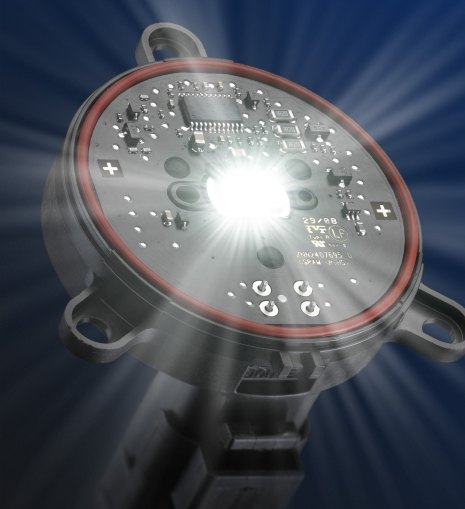 "With a power input of only 19W per dipped beam, the one-litre car's lighting is far more energy-efficient today than conventional headlight solutions, in which mostly halogen lamps with 55 watts are used," said Osram application director Thomas Reiners. "Even Xenon lamps at only 35W use more energy."
He predicts LED dipped beams will eventually use less than 15W.
To grace the front of non-premium cars, it is likely that bespoke designs will be replaced with mass-produced LEDs.
"We have a requirement for standardisation of light sources on one hand, and on the other hand stylists want to create fancy ideas," said Hella's Pietzonka. "I am not totally sure these can be made fit together."
Lumileds and Osram are vying to get their LEDs into headlights with their Altilon and Ostar brands respectively.
Altilon in particular looks car part, coming in a bolt-down version with the push-on terminals beloved by automotive electricians, in addition to its solderable form.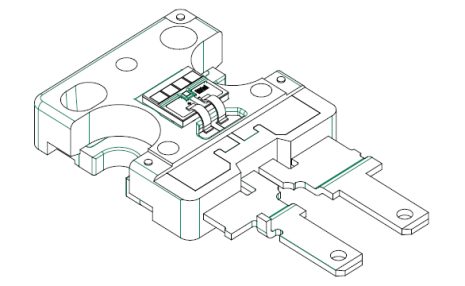 "Altilon has been developed specifically for the automotive head lighting application, and we have tried to incorporate as much robustness into the device as we can," Lumileds' Landau told Electronics Weekly. "The product package features facilitate easy plug-and-play application of the device into the customers' headlamp solution."
This said, soldering is likely to be favoured as the predicted life of automotive power LEDs is longer that the vehicles they will be installed in.
With legal and safety requirements not seen on most lighting applications, LEDs for headlights have to mount with a high degree of precision with respect to their optical assemblies.
"To meet all the various parameters and specifications, we implemented the Ostar technology platform where five different LED offer a high flexibility to the set makers," said Osram spokeswoman Marion Reichl. "They are optimised for the specifics of forward lighting applications: thermal resistance, mounting precision and of course their light output characteristics."
Multi-die packages dominate forward lighting at the moment. Will there be single die dip beams or single die main beams?
"The trend is definitely already there. The first LED headlamps were based on five or more LED sources, whereas more recent market-released designs are based on three or even two. A single cost- and energy-efficient LED low beam source can be envisioned in 2013 with breakthroughs in performance expected over the coming years," said Lumiled's Landau. "Based on required cost and functionality, the choice will depend on the car maker's requirements. In the case of a more cost- and energy-efficient design, a multi-die high and low beam solution can be envisioned, whereas in the case of a more stylish or adaptive front lighting system (AFS) design, multiple single devices might be an attractive implementation."
Osram differs on certain aspects. "Multi-die devices offer such a defined feature," said Reichl. "The industry is working on AFS concepts with highly flexible beam patterns where LED arrays are likely being used. Single die devices will be mainly used in non-projection applications like daytime running lamps or fog lamps."
Steve Bush, Electronics Weekly Technical Editor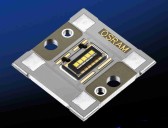 Osram's five member Ostar range, right, is aimed at headlights. Five die in a row allow the all-important dip cut-off to be achieved without resorting to complex optics.

Achieving a legal dip cut-off, the sharp transition between dark and light at the top of the beam that reduces dazzle, is the toughest target to hit in headlight design. This is dip cut-off intensity plot for a right-hand drive car.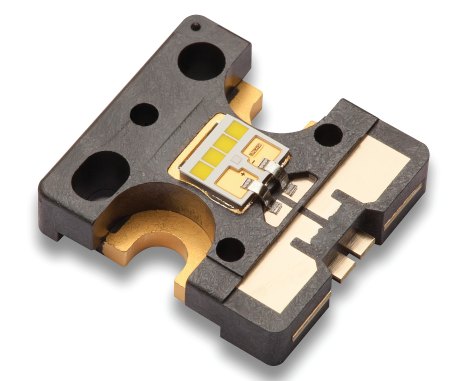 Lumileds' offering to the headlight trade is Altilon, pictured above, used in the Audi R8 for high beam, shown here in its four die guise.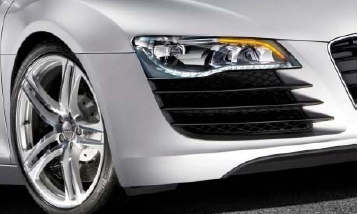 Audi R8 cars, pictured right, come with an LED headlight option based on Altilon LEDs. The Audi A8 uses Ostars.