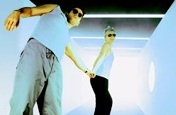 According to market analyst IMS Research, the lighting industry is "scrambling to roll out LED-based lamps and fixtures, looking for falling prices to crank up demand."
Will it happen?
Yes, but there are still design and technology challenges to be overcome if LEDs are to replace compact fluorescent lamps for general lighting.
On the plus side, LEDs can have a far longer lifetime even than long-life fluorescents, and should be more energy efficient.
But one of the downsides is the highly directional nature of the LED's light output.
Suitable for spotlights, this directionality is one of the design challenge when creating a fitting to replace a basic 60W incandescent bulb – with its omni-directional glow.
"But you can't deny the enormous potential energy savings from LEDs" said Kevin Furr, senior analyst at IMS Research, which has published a study on the global lighting market.
"The light output per watt – called 'efficacy' – has more or less reached a plateau for other types of lighting, but not for LEDs, where that number keeps vaulting skyward."
Still the likelihood is that these design issues will be tackled and so the efficacy for real-world LED-based lamps is likely to surpass that of fluorescents.
The other big challenge for the industry will be to design LED lamps with an adequate degree of omni-directional output to solve the problem of diffusion.
"If lighting suppliers accomplish that," said Furr, "that combination of efficient light output, very long life, and rapidly falling prices will make LED light a winning solution in numerous general illumination applications."
IMS Research forecasts that the overall lighting market for general illumination lamps, luminaires, ballasts and drive circuits will reach $92bn by the end of 2014.