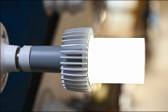 Whether it be general home lighting or automotive applications, such as, car rear light clusters, this guide brings together all Electronincs Weekly content related to LEDs and lighting.
Dynamically updated by means of a news feed, it presents content from Electronics Weekly news and features and also highlights other resources from around the web.
White LEDs
High quality LEDs are now produced with efficiencies around 70 lm/W, compared to 12 lm/W for incandescent light bulbs and single die devices with over 100 lm.
White LED versions of usual lights are already produced from several manufacturers.
LED headlights for vehicles are planned, with German electronics firm Osram leading the way. Osram is developing a range of multi-die packages that are close to generating enough light for vehicle applications.
In addition to vehicle lighting innovation, Osram and Seoul Semiconductor have joined forces to share patents for white LEDs.
Lighting specialist Lumileds will swap materials for white LED car headlights. Lumileds will replace liquid-deposited phosphurs to bonded phosphorescent ceramics for applications next year.
White LED versions of traditional luminaires are already available from several manufacturers, particularly in the MR11 spotlight style.
Further information on LED lighting
LED Luminaries
LED industry insiders, from Dialight, Carclo, Farnell and SKK Lighting share their insights on the issues shaping thedevelopment of LED technology in general and LED lighting in particular.
Solar powered LED street lights
Communities across the world are standing by their commitment to preserving the environment by installing street lighting powered by the sun.
LEDs on Wikipedia
Features background information on light-emitting diodes.