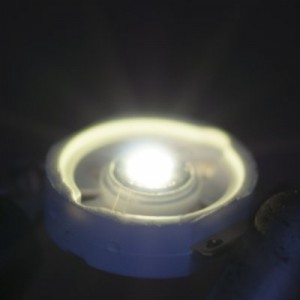 A feature of the technology is that it can eliminate phosphor application from the packaging process, as a result and to support use in lighting luminaires, the supplier can offer the LEDs in chip-on-board (COB) and a number of other package options.
This can include "variable-CCT single-package solutions, and greatly simplified RGBW, WWRA, WWWR or WWGR solutions to provide enhanced CRI and higher efficiency red/amber/green augmentation," said SemiLEDs.
Designated EV-W, the LEDs are available in high-power 40-, 45-, and 53-mil low-profile vertical chips and can deliver up to 140 lm with efficacies of 130 lm/watt at 350mA, depending upon the chip bin and chosen packaging approach.
Standard CCT/CRI options range from 6,500K/70CRI to 2,700K/80CRI, and include distributions as tight as 1/4 of a standard ANSI bin. Additional customization, including specialized phosphor options, is also available.
"A traditional barrier to the availability of creative new LED packages, especially lower-profile implementations, has been the issue of phosphor application within the packaging process," said Mark Tuttle, general manager for SemiLEDs Optoelectronics Co.
Phosphor application can not only add to processing time but also creates overspray and wastage issues which can either limit packaging options or increase costs.
"By combining our rugged vertical-metal EV-blue chips, and the proprietary ReadyWhite phosphor coating technology, SemiLEDs' EV-W eliminates blue-leakage while delivering an impressive level of color uniformity and tight binning options for low-profile and multi-color white packaged LEDs," said Tuttle.
Moving to a vertical-metal structure can address the issue of blue leakage that would typically emanate from the sapphire substrate with a dispense-coated or spray-coated horizontal chip.
However, coating uniformity can be a manufacturing challenge. "While the industry has developed effective techniques to evenly cover the blue chip in a cavity-based package, current dispensing and spray-coating techniques tend to deliver a domed distribution rather than a flat, uniform coating," said SemiLEDs.
The SemiLEDs' EV-W LEDs are available with an option of gold/tin (Au/Sn) metallisation to support eutectic bonding to further enhance thermal characteristics.