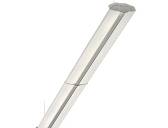 Up to 120 lm/W is available, or 90 CRI, with 75,000hr lifetime to 85% intensity.
0-10V dimming to 5% is standard.
This is the first time the firm has used what it is calling MicroMixing Optics are – thousands of tiny impressions imprinted on "state-of-the-art highly reflective polymer material", said Cree. "Unlike direct-view LED solutions, this multi-faceted pattern blends and softens the light and redirects it with control and colour mixing."
The units are 2.4m long, come in 3,500K and 4,000K colour temperatures, and are only available in 115V.