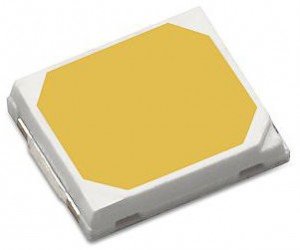 They come in five configurations of light output, string voltage, and ESD protection. "The LED retrofit bulb and other application segments are taking off right now," said Lumileds mid-power director Matthew Everett. "We decided to optimise for each application requirement via different offerings."
All the Luxeon 2835 LEDs can be driven at double their reference drive currents for manufacturers who want to use fewer LEDs, and and can handle the efficacy drop and increased heat.
2835C has 240mA maximum drive current, 3V and 6V options, plus a protection Zener option
2835E is for "cost-effective retrofit lamp designs", said Lumileds, with 6V and 9V options
"Makers of low cost retrofit bulbs targeting soft white [2,700K, 80 CRI] will benefit from the Luxeon 2835E 9V, which produces 72lm at 134lm/W when driven at 60mA," said the firm. "For entry level bulbs, a lighting manufacturer might choose the 2835E 6V, which produces 49 lm with the same efficacy."
2835C 6V, which produces 103lm at 138m/W in 2,700K 80 CRI (at 120mA), will suit dimmable bulbs, LED candles and downlights, claims Lumileds.
For mid-range troffers, linear fixtures and downlights, it is offering 2835C 3V with or without a protection Zener.
The version without a Zener produces 58lm at 156lm/W, 4,000K and 80 CRI (at 120 mA).
2,700K-6,500K  devices are available at 70 or 80 CRI.
The 6V and 9V LEDs are "hot-colour targeted" according to Lumileds, to ensure the colour remains within ANSI bin specifications at typical application conditions. "Micro colour binning allows customers to create 3-, 4- or 5-step MacAdam Ellipse kits.
As with all LED announcements, check suppliers to discover when top-end bins will be available.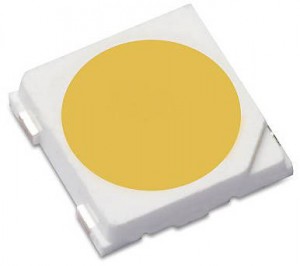 And more from 3535 LEDs
Earlier in the month, Lumileds almost hit 200lm/W, with a more efficacious 3535.
Called Luxeon 3535L HE Plus, typical – said Lumileds – performance at at 100mA is 186lm/W (4,000K 80CRI 52lm).
If drive is reduced to 65mA, light drops to 34lm while efficacy climbs to 194lm/W.
3V parts are initially available in 2,700, 4,000 and 6,500K 80CRI versions – all tested at 100mA and 1/7th ANSI colour binned.
LM-80 data for Luxeon 3535L at 85˚C and 200mA after 10,000 hours, said Lumileds, indicates the LEDs will maintain 90% of lumen output after seven years of continuous operation – projected using TM-21.
Luxeon 3535L comes in four performance levels:
3535LS entry level
3535L standard
3535L HE high efficiency
3535L HE Plus high efficiency