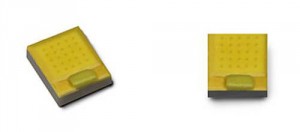 See the table below for new output figures.
"In addition to upgraded performance across the existing portfolio, Lumileds has introduced 4,000K and 5,700K emitters in the 90 CRI range to address needs in stadium and museum lighting," said the firm.
Un-domed emitters allow smaller diameter optics to be used for the same beam width compared with domed optics – 'more punch' as the marketeers are apt to say, although overall efficacy is reduced.
Also, without a dome the package can be smaller, allowing higher packing density.
According to the firm it is suited to "applications requiring tight beam angles such as spotlights, down-lights, retrofit lamps and street lights".
Colour binning is interesting, with 5, 3 and the "first-ever", claims Lumileds, 1 step MacAdam Ellipse options.
CRIs of 70, 80 and 90 CRI are now available.
LUXEON Z ES
Previous

Typ lm @ 700mA 85C Tj

April 2014

Typ lm @ 700mA 85C Tj

% increase
70 CRI
4000K
210
240
14%
5000K
215
245
14%
5700K
215
245
14%
6500K
245
80CRI
2200K
150
2700K
175
185
6%
2700K HV
165
3000K
180
195
8%
3500K
190
205
8%
4000K
195
220
8%
5000K
220
90 CRI
2700K
135
160
18%
3000K
145
170
17%
4000K
180
5700K
190