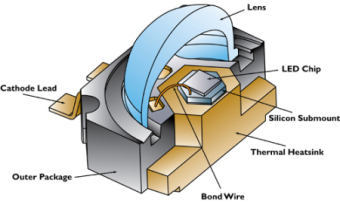 Seoul Semiconductor has recently announced the P7, a large surface mount package with a lot of power handling. Does Lumileds have intellectual property that would allow it to match this package in thermal conductivity?
Yes. We expect packages like the Luxeon K2 to handle approximately 14W.
How much more life is there in the K2 package?
It will carry us well into the next decade.
You have the Luxeon V, Osram its Ostars, and Seoul its P7 – all multi-die packages. Do multi-die packages have a long term future or will single die packages replace them?
Yes, multi-die packages have a future. The challenge is heat and package material management.
How much does the market want electrical isolation in the thermal path within power LED packages?
We have heard both requirements. Usually, it is application specific.
How much does electrical isolation in the thermal path affect thermal conductivity?
It's only a small factor.
Is Lumileds planning a physically larger package similar in construction to the Rebel?
We have not announced any plans to do this. We do have other die-on-ceramic products: Luxeon Flash and our Automotive Forward Lighting sources.
Is the jelly lens on the Rebel package causing handling problems with users?
No. it is a standard SMD pick-and-place.
Is there any inter-LED maker activity to produce standard packages so the industry can stop having to think about packaging?
None at this time, as the technology is evolving.
Coloured Luxeon V LEDs were fine, so why was the Luxeon V package unsuited to white LEDs with a lifetime comparable to, for example, Luxeon 1 white LEDs?
White Luxeon V products exhibited light output degradation over time due to phosphor-silicone browning. Phosphor-silicone browning was due to the higher light output and reactions with the phosphor-silicone coating at high operating temperature.
Was the thermal limitation in the Star part of the package, the other part? or both?
The thermal limitation was in the package and not the star board that was an option.
Given the time again, could Lumileds have designed a package in the same hex footprint that would have given the full desired lifetime from white?
Without a doubt. Packaging technology has advanced significantly over the last six years and changes could be made that resolve the issue. Our Luxeon K2 package is an example of high light output and drive current and up to around 5-6W of power handling capability.