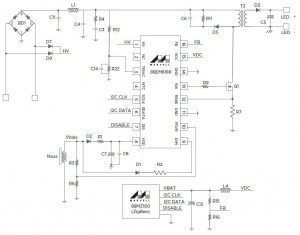 Called 88EM8189, it can be used in either non-isolated buck-boost or isolated fly-back designs. Primary-side sensing allows isolated designs without an opto-isolator.
"As part of our end-to-end smart lighting platform, the LED driver controller helps users make the transition from wall dimmer controlled LED lights to smart bulbs connected to the Internet, and controllable by smartphones and tablets," said Philip Poulidis, general manager at Marvell. "It delivers automated wireless light control through the Internet and backward compatibility with existing dimmers."
Dimming range from 100 to 1% is claimed, and it is "backward compatible with phase cut wall dimmers worldwide", said the firm. "It is built on the same technology as Marvell's phase cut LED driver chip the 88EM8187."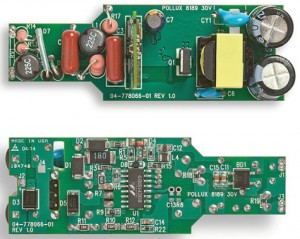 Dimmers vary widely in quality. Across the ac-dc LED driver industry, dimming range and the number of dimmers a chip or design is compatible with is dependent on static power consumption and innovation in circuit design. Marvel has gone for a static power consumption that is considerably higher than usual (<500mW stand by, it said, including Zigbee) to broaden dimmer compatibility in its product brief – despite pulse-skipping to lower stand-by consumption.
Claimed efficiency is 88% with a dimmer and 90% without.
Power factor is >95%, total harmonic distortion (THD) is <20%.
The design is single-stage, so 100/120Hz light flicker will be strongly dependent on the size of the output capacitor.
With I2C on-board, the firm is proposing a Zigbee-controlled smart-bulb by paring the power converter with its 88MZ100 which includes a Zigbee tranceiver, an ARM Cortex M3 microcontroller, and an I2C interface.
The firm's smart lighting platform also includes the 88MC200 Wi-Fi microcontroller and a ZigBee-to-Wi-Fi gateway. It supports protocols in ZigBee Home Automation (ZHA) and ZigBee Light Link (ZLL).
Operating temperature is -40 to 105°C (junction 150°Cmax), and thermal fold-back is included for improved reliability. There is also built-in protection for open-circuit and short-circuit.
The chip comes in a SOIC-16 package.