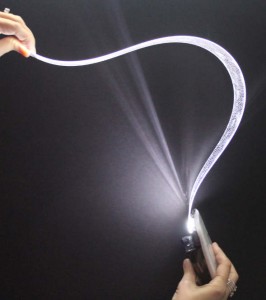 This capability came from two developments within the company:
A thin film embossing process allowing light guides as thin at 0.25mm to be manufactured for flexible or curved products.
A change in the way optical extraction features are embedded in injection moulded light guides, allowing extraction features to be added to solid curved light guides.
"The curvature of the light guides can be custom designed for various applications," said the Ohio-based firm. "Typical sizes range from 0.25 to 4mm thick, and greater than 600mm in diagonal, depending on the application."
These light guides are edge-lit and can be integrated into, for example: overhead lighting, wall sconces, automotive interior lighting (dome lights, passenger compartment lighting), automotive exterior (daytime running lights), white goods and consumer products.