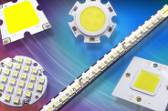 "Spectralux light engines allow customers to concentrate on what they do best – creating and taking innovative and appealing products to market – using efficient, reliable and cost-effective LED assemblies that have a proven and demonstrable level of performance," said OMC commercial director William Heath.
Some exceed 100lm/W efficacy, said the firm adding: they are very simple to use, requiring only heatsinking and a constant-current supply to drive them.
The products have matched LED die bonded to aluminium or copper substrates, with a phosphor coating.
Headquartered in Redruth, OMC was founded in the mid 1980s as The Fibre-Data Group.
It has four manufacturing divisions: fibre optics; LED backlights and optical mouldings; discrete optoelectronic components; and LED Lighting.