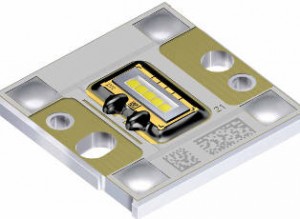 Low-beams that adapt with vehicle speed are another aspect: at high speed the range of the light is automatically increased, while in city traffic the beam is widened to include more of the pavement and road edges.
"The aim of this project is to develop the technical framework for a new class of energy-efficient LED headlamps with supplementary traffic safety functions," said Osram. "This can provide the basis for adaptive forward lighting systems [AFSs] that offer drivers and passengers increased safety."
Such headlamps already exist, using HID 'xenon' sources and mechanical shutters to change the beam shape. This project will be all-electronic.
The project is part of the 'Integrated microphotonics' initiative, sponsored by the German Federal Ministry of Education and Research (FMER). Osram is project co-ordinator.
"The key to this complex functionality is the integration of microelectronics and optoelectronics," said Osram.
Initiative members are:
Osram – automotive lighting LEDs, control gear.
Fraunhofer Institute for Reliability and Microintegration (IZM) – interconnection and materials.
Infineon – automotive electronics and LED drivers.
Hella – optical system, headlamp structure, prototype build.
Daimler – vehicle tests.
"We have brought together major-league players in their respective sectors, assembling a wealth of expertise for this pioneering project around one table," said project coordinator Stefan Grötsch, also responsible for LED applications in automotive lighting at Osram.
The project will run until the end of January 2016.