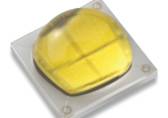 With an 8mm2 emission area producing 900 lm at 700mA (Tj=85°C Vf=12V) from its 8W package, application in high-bay lighting is also expected.
It will be released in three different colour temperatures: 3,000K,
4,000K, and 5,700K each with specified minimum colour rendering index (CRI) of 70.
Each part is hot tested and specified at 85°C and the part is covered by the firm's Freedom From Binning programme.
Operated at lower power, "efficacy is greater than 120 lm/W at 350mA and 85°C junction temperature", said Lumileds, which is not yet releasing any more performance data, nor has it said when the part will be available.
It will be on show at Strategies in Light in Santa Clara (opening February 7).