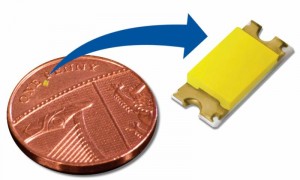 PLW138003 is a white LED in a 1005 (1×0.5mm) SMT package "designed specifically for the demand for ever smaller LED components producing highly collimated light", said Plessey.
Branded 'dotLEDs', there is also a blue version (PLB138003). Both weigh 0.2mg and are 0.2mm tall.
Up to 0.7 lm of white light with 130° viewing angle is available from 5mA drive (at 2.9Vf = 48 lm/W ).
"Further additions to the dotLED family will be colour variants and a series in the larger 1608 footprint," said the firm.
Die are also available – the one in the 1005 products is 200x200x75µm.
"Plessey is demonstrating its commitment to bringing to market a comprehensive range of LED products across all markets and applications. The dotLED family addresses the exacting optical, mechanical and cost requirements where small is beautiful," said Dr Jose Lopez, Plessey chief commercial officer.