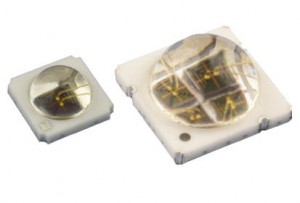 "The four die parts are the world's most powerful IR emitters," said the firm, which has also released some deep red emitters.
Called LZ4, the IR LEDs have a 7x7mm footprint and the firm's dual-junction emitters.
Heat management is a priority and the package is a proprietary thermal expansion matched multi-layer ceramic substrate with thermal resistance down at 2.8°C/W.
"Equipment manufacturers in established markets such as surveillance, transportation and machine vision, and newer businesses in biometrics and gesture recognition, are all looking for ways to improve performance, size and energy consumption. Our new emitters satisfy these requirements," said Uwe Thomas, v-p of product management.
Security lighting is the main intended application, and materials have been selected for long life outdoors in high ambient temperatures and high humidity, said LED Engin. The package lens is glass.
The firm is offering secondary optics output angles from +/-9 to +/-20°, and promoting lenses down to +/-4° from its optics partner Gaggione.
4.5W output is at the maximum continuous forward current of 1A.
Binning is at 700mA, where 3.2W is available (9W in at Vf=12.8V). Forward voltage at 700mA is between 10.8-14.8V.
Pulse operation (≤150μs at ≤10% duty cycle) is permitted up to 5A.
"The emitters are designed for IR systems operating at up to 150m," said LED Engin.
For less output, the 4.4×4.4mm single die LZ1 is available which can deliver up to 1.15W at 1A. Thermal resistance is 6.0°C/W in this case.
For 850nm only, there is also a quad-die single-junction version binned (700mA) from 1.6-3.0W out and 6.8-10.8V forward drop.
These LEDs are emitting a lot of invisible power and LED Engin warns that IEC 62471 safety precautions should be observed.
The firm has also been busy at in the red spectrum, with the introduction 'deep' red LZ4 quad dies at 660nm (2.6W typical at 700mW, 3.4W at 1A), and 'far' reds at 740nm (2.1W at 700mA, 2.7W at 1A).
These are parts LZ4-00R208 and LZ4-00R308, and are in addition to LZ4-00R200 and LZ4-00R300 which have very similar specs.