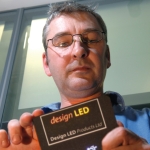 Can you describe in two sentences the essence of your printed light-guide manufacturing technology?
This new method of printing light-guides puts a thin layer of light of any shape, colour or size anywhere you want it on a product – as a backlight, illuminated icon or behind a switch. This makes it extremely adaptable to create new lighting effects in products.
In your view which is the most exciting application for LED light systems at present?
Combining LED light with capacitive switches creates a visual feedback mechanism for the user. Using colour changes, secret until lit and simple animation sequences can better communicate what the device is doing.
What are the pros and cons of operating a design and manufacturing business out of Scotland?
Pro – Most nationalities realise Scottish people are very proud of their country and heritage, and respect you for it. This counts for a lot when it comes to forming relationships with international customers.
Con – We lose out on our beauty sleep when we have to get up for early flights.
In your view when, if ever, will the LED replace the filament lightbulb in consumer lighting?
Unlike other LED companies we're not out to replace the conventional lightbulb. That said, in my opinion it will be down to a combination of environmental awareness, government policy penalising inefficient lighting technologies and for increasing numbers of people to realise that the cost of electricity a light burns during its life far exceeds the purchase price.
Do you manufacture in the UK? If so what are the commercial benefits of doing so?
Yes – we operate on a licensing basis and currently have two UK licensees. Manufacturing in the UK is moving to higher value add and has high levels of innovation. The UK is also excellent at producing groundbreaking product design.