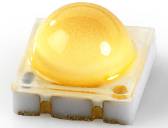 The GM2BBxxQK1C series will deliver up to 24.5 lm and 125 lm/W, said the firm, and comes in the standard 2.8×2.8×1.9mm Pico package.
"The Pico Zenigata series is already used in the backlighting of LCD televisions, and it is particularly pre-destined for applications in surface lighting such as the ceiling lighting of office rooms and factories," said Sharp. "Other typical application areas include sales area lighting, street lighting, architectural lighting and display lighting."
The two die GM2BBxxQKAC (300mW) is scheduled to reach up to 46.7 lm and 120 lm/W, and the three die GM2BBxxQK0C (500mW) up to 72.5 lm and also 120 lm/W.
All will come in warm (2,700 and 3,000K) and natural (3,500, 4,000 and 4,500K), pure (5,000K and 5,700) and cool (6,500K) – although initial samples are only available in 3,000K and 4,000K.
Typical CRI of 83 is predicted for all three types "through a combination of blue LED dies with a special mixture of green and red phosphor", said Sharp.
Construction is phosphor-on-die with a transparent primary dome.
Lumen depreciation will be 5% after 50,000 hours, claims Sharp, and lifetime at 80°C will be 40,000 hours – full test conditions have yet to be revealed.
As with lighting LEDs from all manufacturers, top-rated devices are unlikely to be available from day one.