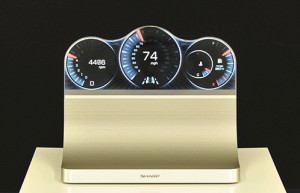 "The device can be shaped to meet a wide range of user needs thanks to the incorporation of IGZO [indium gallium zinc oxide] technology and proprietary circuit design methods," said the firm. The gate driver is not on the edge of the display. Instead "the gate driver's function is dispersed throughout the pixels on the display area. This allows the bezel to be shrunk considerably".
Using a free-form LCD, cars can have a single dashboard instrument panel that combines a speedometer and other monitors.
Details are sparse, but it appears all edges can be curved because Sharp added: "There are other possibilities for displays, including wearable devices with elliptical displays."
Sharp is planning mass production.