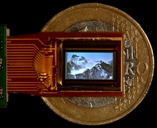 "There are many microdisplay technologies, but for instance compared to existing products from the competition, in the same mechanical package we can achieve five times more pixels," Eric Marcellin-Dibon CEO and cofounder of Microoled told Electronics Weekly. "This achievement in the world of microdisplay opens the door for high picture quality electronic viewfinders for cameras, but also enables high definition video eyeglasses for mobile applications."
Pixels in the 9.6mm WVGA display are 10×10µm, each with four sub-pixels. White-emitting OLED covers the active CMOS substrate, with over-laid filters providing colour.
Microoled has opted to use small-molecule OLED materials, as opposed to the polymer OLED materials adopted by Edinburgh-based microdisplay maker MED, which went into administration this week.
"We use a small molecule based technology based on vacuum process, whereas MED's technology is based on polymers and wet-processing," said Marcellin-Dibon.
"We have developed a proprietary low voltage technology compatible in terms of voltage and process with standard CMOS backplanes. This enables us to achieve very good power efficiency, and a high pixel density. Small molecule is more efficient than polymer based OLED, and in addition our low voltage technology makes our microdisplay very efficient," added Marcellin-Dibon.
The Microoled display dissipates 25mw at 150Cd/m sq displaying 60Hz video.
It is based on OLED technology licensed from Thomson and CEA.
"Marrying the capabilities of CMOS and the flexibility of OLED offers a unique route to micro-displays with unequalled resolution and brightness," said Laurent Malier CEO of CEA-Leti. "We foresee a tremendous potential of applications for theses devices. The high resolution and the low power consumption makes it perfect for a large set of nomadic products."
The display has over 1.7 million sub-pixels.