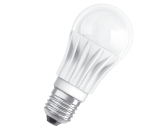 Editor's choice of 10 LED products which stand out for their specifications and efficiencies in this most active of design areas.

Bridgelux offers multi-die power LEDs with outputs up to 2,000lm.
To provide isolated heatsinks with high thermal conductivity, the firm has built isolation into the individual die. All there is in the package is the die, the die attach, and the aluminium substrate. Thermal conductivity is in the range 0.5 to 0.8°C/W.
The Californian LED manufacturer has opted to cover blue die with a silicon/phosphor mixture rather than phosphor-coat each individual die. 
There are two packages, one in the traditional "star" style offered with output up to 400lm, and a slightly larger rectangular style available in 800, 1,200, and 2,000lm versions.
Cree LRP-38 is an LED with a colour rendering index (CRI) of 92, putting is among incandescents for colour quality.
"It generates a CRI of 92 at a colour temperature of 2,700K. The tightly-focused beam delivers a centre beam candlepower of 4,000 with a beam angle of 20 degrees," said Cree. "This light is designed to replace 50-90W halogen PAR38 bulbs in various applications."
Input power is 12W, with the firm claiming a total delivered minimum efficacy of 42lm/W.
The lamp is designed to last 50,000h in open track fixtures or 35,000h recessed down lights.
Enfis' Innovate Series is a range of white power LEDs with a colour rendering index (CRI) above 92.
Some devices deliver more than 2,500lm and colour temperatures of 2,800K (warm white), 3,600K (neutral) or 6,500K (cool white) are available with rated lifetimes of more than 50,000 hours.
All configurations are fully dimmable – the firm also provides suitable supplies –  and include the option to monitor array temperature and control lumen output.
A variety of optics provide beam patterns from 14 to more than 120 ­degrees.
Lumileds Altilon is an LED for automotive headlights. Based on the firm's "thin film flip chip" die, Lumileds is claiming more than 850lm and 60 million cd/m2 at 1A.
It also claimed that this is the LED used by Audi for both high and low beam in its R8 car.
Colour temperature is 5,600K and the device is AEC-Q101C qualified.
Dialight's Powerwhite AR111 and MR16 are modular circular arrays using ultra-high-brightness LEDs. 
Operating at 10W, compared to 35W used by traditional sources, the MR16 module can potentially save more than 70% on energy, according to the supplier.
The circular, solid state Powerwhite LED modules are free of hazardous materials and can perform for more than 50,000 hours.
Manufactured in the UK under ­Dialight's controlled manufacturing process, they are available in a choice of colours and colour temperatures.
Marl's 742 Series LED-based security floodlights draw just 30W.
A feature of the lighting enclosure is that it has been designed to minimise light pollution, casting its beam downwards to provide a wide area of clear white illumination below. This feature further helps improve the efficiency of the unit.
The lamps have a number of 20mm conduit entry points on the back and sides allowing maximum flexibility when mounting the unit.
The Marl 742 series is manufactured in the UK at Ulverston.
Optek Technology's OVS5MxBCR4 series is a miniature half-watt LED package, which measures 3.5×3.5×1.2mm.
Compatible with IR reflow soldering, it is available with white, warm white, blue, green, red, amber and yellow LEDs and has a 120-degree viewing angle.
Power dissipation at 150mA is 0.48W for the white, warm white and blue LEDs; 0.51W for the green device; and 0.33W for the red, amber and yellow packages.
Typical luminous intensity is 4,000 4,500 and 5,000mcd for the red, amber and yellow LEDs, respectively. Luminous flux for the white, warm white, blue and green LEDs is 25, 25, 6 and 25lm, respectively.
Osram's Parathom Classic (pictured) is claimed to be the first LED-based replacement for a 40W bulb.
The bulb consumes 8W and produces 345lm at a colour temperature of 3,000K.
Lifetime is claimed to be 25.000h.
"This is the first bulb shaped LED lamp which constitutes a true substitute for a 40W incandescent lamp," said Christian Schraft, head of consumer lighting at Osram.
Tyco offers the TYC06-09 hermaphroditic connector for power LEDs.
The wire-to-board and board-to-board designs are aimed at the aluminium-clad PCBs commonly used for lighting controls and LED modules.
Being hermaphroditic allows the same connector to be used at either end of an LED PCB strip, and this particular blade and receptacle design allows two boards to slide together either horizontally or vertically.
Only one surface-mount board-mount part is needed for both board-to-board and wire-to-board connectivity, and the plug connector mates with board-mount connectors with positive latching.
The thermoplastic housing is 94V-0-rated and connectors are available in 2, 4, or 6 positions. They are rated at 6A, 125V and operate from -40 to 105°C.
www.tycoelectronics.com
Seoul Semiconductor Z1 is a surface-mount power LED for general lighting which is as slim as a credit card.
The LED comes in a ceramic package that is 5x6mm and 1.2mm thick, and the series includes the NZ10150 warm (3,000K CRI=80) white and WZ10150 cool (6,300K CRI=68) white with typically 80lm and 105lm output respectively, and up to 95lm and 125lm.
Typical drive conditions are 450mA at 4.2Vf.
Seoul expects supplication in signs, displays, refrigerators, and under cabinets.