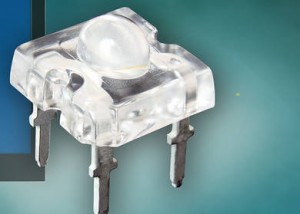 The 940nm devices emit 40mW/sr of radiant power with 100mA drive over +/-18° vertical and +/-36° horizontal (to half intensity.
"The device's unique angular distribution makes it ideal for gesture remote control of televisions and gaming systems, where it provides excellent spectral matching with silicon photodetectors," said the firm. "The IR emitter's wider angle in the horizontal view helps maintain position flexibility for users, while the narrower angle in the vertical plane focuses the distributed radiant intensity."
Called VSLB9530S, they use GaAIAs multi-quantum well (MQW) technology and come in a 7.62×7.62×4.6mm package with 200K/W thermal resistance.
"While standard IR emitters typically offer drive currents to 100mA, the thermal resistivity of the VSLB9530S allows continuous drive currents up to 150mA, which pushes the achievable radiant intensity to 60mW/sr," said Vishay. "The device offers modulation bandwidth of 24MHz, and is suitable for high pulse current operation."
Switching speeds are down to 15ns, and the forward voltage is 1.31V at 150mA. Operating temperature is -40 to +95°C.
Design is to: CECC 00802 for wave soldering, RoHS Directive 2011/65/EU, and halogen-free per JEDEC JS709A.
Samples and production quantities are available now, with eight weeks lead for large orders.