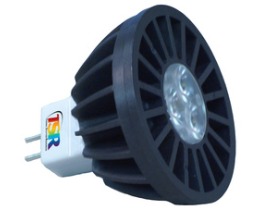 According to the supplier, the intelliSSL smart MR16 LED lamp's design provides strong wireless reception, eliminating signal interference even under high temperatures, while conforming to a standard ANSI format – 1.98 inches in diameter and 1.98 inches in length – with a GU 5.3 base.
A GU 10 base version is planned for release later this year.
Compliant with the IEEE 802.15.4 standard for wireless communication, TSR's new wireless MR16 LED can be used with a wide range of network software stacks, including ZigBee Light Link, ZigBee Home Automation and JenNet-IP.
It uses the ultra-low-power JN5168 wireless microcontroller from NXP Semiconductors N.V
Likely applications are architectural and outdoor lighting installations.
"Wireless lighting control is becoming a strategic investment for commercial and residential buildings, with significant ROI in terms of energy savings and total cost of ownership, as well as safety and security," said Mikhail Sagal, president of Thermal Solution Resources.